Rohan starts construction of its new ultra-modern office development, "21 Charlemont".
06.03.2015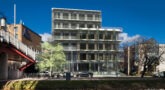 We have now started demolition of the existing structure that sits on this D2 site. A short demolition programme will make way for the immediate construction of a new ultra-modern 35,500 sq.ft. office building, which will be finished to a Grade A International standard in the first half of 2016.
We will be launching this project shortly.